Guide, sheaths and pulleys
MP type sheave/pulley self-lubricated bearing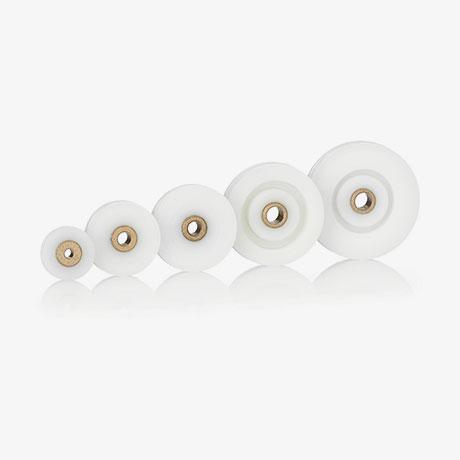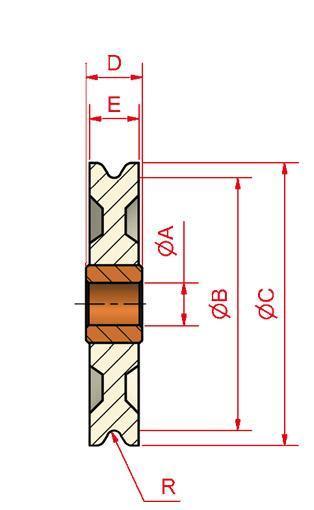 MP type sheave/pulley with self-lubricating bearing
These polyamide sheaves have been fitted with a self-lubricating bronze bearing.
The oil (viscosity similar to SAE 30) contained in the pores of the material acts as a hydraulic damper, absorbs shocks and thus gives the unit a long service life.
service life. The bronze is particularly resistant to corrosion and wear.
For cable up to:
mm
A
+ 0,07mm
- 0,08mm
mm
B
± 0,50 mm
C
± 0,50 mm
D
+ 0,20mm
-0,30mm
mm
E
+ 0,20mm
-0,30mm
mm
R
mm
Weight
kg/100 pcs.
Previous Ref.
New Ref.
1,20
3,20
16,0
19,5
4,8
4,0
0,6
0,286
MPU 16032
UM000026
1,20
4,80
22,5
27,0
6,4
5,6
0,6
0,485
MPU 22548
UM000027
1,20
6,40
22,5
27,0
6,4
5,6
0,6
0,430
MPU 22564
UM000028
1,60
4,80
27,0
32,0
6,4
5,6
0,8
0,620
MPU 27048
UM000029
1,60
6,40
27,0
32,0
6,4
5,6
0,8
0,570
MPU 27064
UM000030
2,40
6,40
32,0
38,0
8,0
7,2
1,2
0,835
MPU 32064
UM000031
2,40
9,60
32,0
38,0
8,0
7,2
1,2
0,856
MPU 32096
UM000032
3,00
6,40
35,0
44,5
8,0
7,2
1,6
1,056
MPU 35064
UM000033
3,00
9,60
35,0
44,5
8,0
7,2
1,6
1,124
MPU 35096
UM000034